Americans across the nation celebrated the country's 242nd birthday earlier this week with barbecuing, fireworks, and trips to the beach. Chances are that patriotic songs were played during these festivities. You know, the songs that are commonly sung during sporting events or ceremonies. July Fourth also marks the 100th birthday of America's unofficial national anthem, "God Bless America," written by immigrant Irving Berlin in 1938 - the same year he became a U.S. citizen. Berlin is also the composer of classics like "White Christmas" and "Easter Parade."
The composer was originally born in Russia, but he and his family fled when he was 5 years-old because of religious persecution. After the family spent time in a holding pen, American immigrant officials decided to allow them into the country.
Twenty-five years later, a classic piece of music emerged. Berlin wrote "God Bless America" as a "peace song" in response to the "fascism and war threaten[ing] Europe." "God Bless America" debuted on Nov. 10, 1938, to commemorate Armistice Day, and the revenues for the song went to the Boy Scouts and the Girl Scouts of America, according to the Library of Congress.
The song was written in 1918 while Berlin was serving in the U.S. Army in Yaphank, New York. The title of the song was a phrase his mother repeated during his childhood. Berlin decided the song did not fit in the revenue, Yip Yip Yaphank, and shelved it. After years of revision, Berlin's song finally premiered in 1938 and quickly gained popularity. A later version by radio star Kate Smith was sang on air weekly.
As time went on, the patriotic song's meaning and ideology started to change. When critics discovered "God Bless America" was written by a Jewish immigrant, they believed that Berlin could not celebrate this country as his. The anthem started to face major backlash. Here are some prominent examples of the backlash that occurred throughout history:
Woody Guthrie's "This Land Is Your Land"
During the 1940s, Woodrow Wilson Guthrie, an American singer-songwriter, penned his song, "This Land Is Your Land" in critical protest to Irving Berlin's "God Bless America." When Guthrie was tired of hearing Kate Smith sing Berlin's song on the radio, he sarcastically clapped back with writing "God Blessed America for Me" before renaming it "This Land Is Your Land." However, as the song's popularity grew, its protest roots faded. Regardless of Guthrie's intentions, his popular anthem is still played until this day and was added to the National Recording Registry in 2002.
Marc Anthony's MLB All-Star Game Performance
Grammy-winning, Puerto Rican artist, Marc Anthony, was selected to perform the national anthem at the MLB All-Star Game in 2013. Controversy aroused when Anthony sang Berlin's "God Bless America"; racist remarks flooded social media. Baseball fans took to Twitter to protest the Latino singer by calling him "un-American" along with other racist remarks. Born in New York and raised by Puerto Rican-born parents, Anthony said he is definitely qualified to sing one of America's most patriotic songs.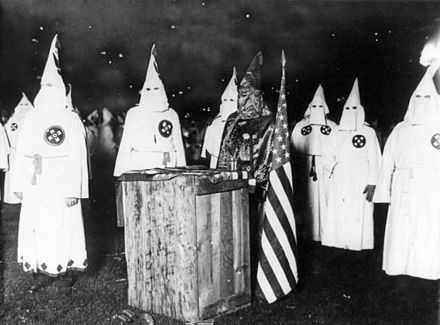 Ku Klux Klan/Nazi Boycott
Some listeners questioned Irving Berlin's right to evoke God and to call America his "home sweet home." In 1940, the song was boycotted by the KKK, the Nazi-affiliated German American Bund, and the newspaper of a domestic pro-Nazi organization printed a screed against the song:
"[I do] not consider G-B-A a 'patriotic' song, in the sense of expressing the real American attitude toward his country, but consider that it smacks of the 'How glad I am' attitude of the refugee horde."
Arguments over who is entitled to proclaim blessings upon the "land that I love" still continues today, but no one can deny the that this unofficial national anthem is a love song to America. The song celebrates its centennial anniversary this year, so it's well worth understanding its origins!